Les Bauges Unesco Geopark from hilltops to lakesides
BAUGES
Geoparks are places of outstanding international geological significance. The landscape, rocks and fossils bear witness to the Earth's history over the past 4 billion years. Geoparks also illustrate the interconnections between people and their planet. Each site or landscape of geological significance is known as a geosite.
This mountain range is an impressive rocky fortress, an unspoilt natural island rising amid urbanised valleys, giving it a strong local identity. The karstic networks and perched synclines are certainly two of the area's geological assets.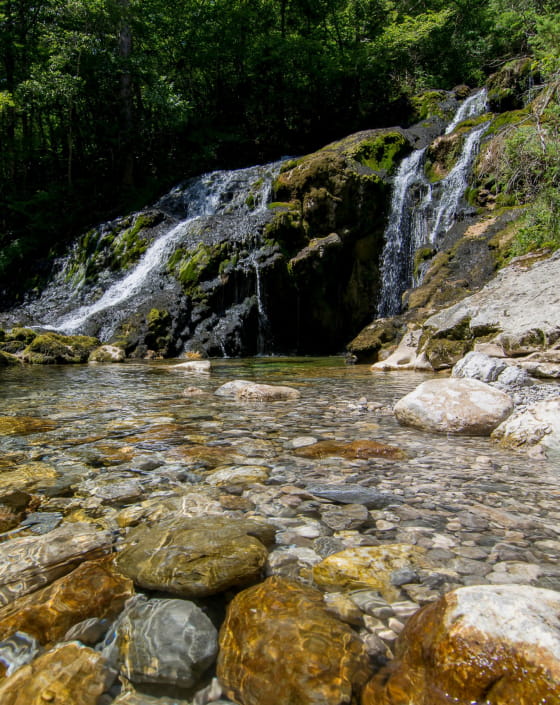 #01
PISSIEU WATERFALL
A karstic spring fed by the waters seeping through Margériaz limestone plateau.
Head out on the discovery trail from Iles du Chéran outdoor activities centre.
#02
PRÉROUGE
A karstic spring fed by the waters seeping through Bange mountain. Easily accessible from Lescheraines or Arith.
#03
La Sambuy
A mountain range lying above Faverges offering a magnificent panoramic viewpoint over Lake Annecy and Mont Blanc.
You can follow the marked trail which offers explanations of karstic forms and mountain flora. Accessible via chairlift from Seythenex, above Faverges.
#04
CHÉRAN GORGES - ABÎME BRIDGE
Abîme suspension bridge spans this 100-metre-deep gorge carved out by the Chéran river, between Cusy and Gruffy.
Don't miss the beautiful view over the Saint Jacques towers.
ALSO
#05
LES CREUSATES
A 13-metre-deep peat bog, which has been accumulating for 12,000 years! It is home to plants which have adapted to living in wet, acidic environments. Follow the informative trail to discover local flora and fauna, learn about how the peat bog was formed, and find out about pastoral practices. Accessible from Saint-François de Sales cross-country skiing centre.
#06
HIKING AND POTHOLING IN AILLON-MARGÉRIAZ
This hiking and potholing route is fully equipped so you can visit this underground world independently. Delve deep underground to discover hidden galleries, cavities and the surprising shapes formed by the water's passage over the rocks. The water has sculpted the surface and interior of Margériaz mountain gradually over time. By taking the geotrail through the holes and ice caves visitors can learn more about how the karst environment has shaped Margériaz.
#01
La Savoyarde
A good place to observe this rocky shape representing a traditional Savoyard headdress is between Montmélian (around the station) and Francin (Beauregard hamlet).
#02
Les Rayes du Pecloz
This mountain has a surprising shape, which can be seen from the forest road in Bellevaux valley, or en route to Col d'Orgeval or Chaurionde point.
ALSO
#03
L'ARCLUSAZ
The most emblematic of the perched synclines is easily spotted in the landscape between Cruet and Frontenex, but also from Croix d'Allant above Jarsy.
#01
Le Revard
A panoramic viewpoint, accessible by car, from which you can clearly see the geological divide between the Jura mountains and the Alps. To the east, Les Bauges (a secondary range of the Alps) and to the west, Lake Bourget and the secondary ranges of Charvaz, Chat and Epine (the end of the Jura mountains). The route of the former cog railway can be followed on foot between Aix-les-Bains and Le Revard.
#02
NIVOLET CROSS
Overlooking Chambéry, this breath-taking viewpoint takes in Lake Bourget, the Belledonne mountains and Mont Blanc. Accessible from Féclaz or Saint-Jean d'Arvey (one ladder section from this side).
ALSO
#03
LE SEMNOZ - CRÊT DE CHÂTILLON
The terrain here is made up of green alpine pastures, perfect for long hikes taking in some stunning panoramic views over the heart of Les Bauges, Albanais and Lake Annecy
#04
MOUNT COLOMBIER - DENT DE ROSSANAZ
This emblematic terrain in the heart of Les Bauges lends itself to different day-hikes up the mountain from the surrounding villages. Viewpoint indicator and Dent de Rossanaz cross.
#01
LAKE ANNECY
The second largest natural lake in France, 75% of whose water supply comes from Les Bauges. A vestige of the Alps' glacial period. Take the discovery trail along Saint-Jorioz lake and visit the Lake Annecy museum in Sevrier.
#02
LAKE BOURGET
The largest natural lake in France, 50% of whose water comes from Les Bauges. Visit the thermal baths in Aix-les-Bains with spring water at 42°C.