Savoie Mont Blanc, cycling at heart
High passes and amazing climbs
Plan your future exploits
Route des 100 Cols, climbs with gradient markers, long-distance circuits... Savoie and Haute-Savoie has innumerable wonderful roads for cycling, both in the valleys and over mountain passes. Whatever your goal, make sure you ride at your own pace and soak up the views.
Simple and practical
Savoie Mont Blanc cycling app
Available from Google Play and Apple Store, this free app describes more than 300 routes and provides a host of practical tips.
Discover the Savoie Mont Blanc cycling app
Legendary and unmissable
The Tour de France
As everyone knows it is the big mountain stages that often decide the outcome of the Tour. Savoie Mont Blanc is proud to welcome the Tour de France every year.
Descending is a true skill
Getting ready to cycle your first pass? Because what goes up must come down, you have to be able to descend, as well as climb! Here are a few tips to get the most from your descents. 
Everything is possible
Thanks to e bikes
An e-bike is your greatest ally on mountain roads.
Meander along on two wheels
Bike rambles
As a family, whether on normal bikes or e-bikes, why not take the stress-free option provided by cycleways, greenways and country trails?
Safe, traffic-free and wheelchair accessible, Savoie Mont Blanc's greenways offer wonderfully relaxing cycling. If your bike has suitable tyres, country trails provide another cycling option. These 2.5-m-wide, unpaved tracks are an ideal way of exploring protected nature areas.
Cycling gear and safety rules
Cycling is a sport for all, but it is important to choose the right gear and to follow a few rules. Here are a few tips to get the most from your bike rides.
Land to explore
Cycle touring
Savoie Mont Blanc is perfect country for long bike rides: great days out between lakes and mountains guaranteed. .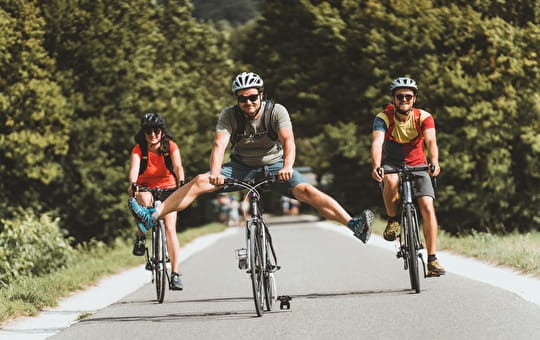 Cycle trip with friends
Follow the story of three friends who cycled the Savoir-Faire Trail from Evian-les-Bains to Annecy. A 4-day trip along the ViaRhôna, V62 and V63 cycle routes. 
Long-distance routes
Tempted by a long traverse beside lakes and rivers? Or would you rather do a circuit through the mountains? Discover the ViaRhôna and the Tour of the Bauges.
Good to know
Savoie Mont Blanc boasts almost 300 "Accueil Vélo" accommodation providers, restaurants and tourist sites, which provide services tailored to the needs of cyclists.