Savoie and Haute-Savoie
112 winter sports resort
With its blend of traditional villages and high-altitude ski-in/ski-out resorts, Savoie Mont Blanc has found the perfect balance behind tradition and modernity. 112 mountain resorts, each with its own atmosphere, enable families and sports fanatics, alike, to enjoy the snow all winter long.
Choose my resort
Famille Plus Label
Everything for families
Mountain resorts with the Famille Plus label provide everything you need for a magical family holiday: simplified holidays, specially designed activities, family rates.
Free Time? Ski Time!
Choose your dates!
Want to decide at the last minute? Stay for a long weekend or for a week outside the usual Saturday-Saturday period? Free time? Ski time! is a new approach to winter sports holidays. Now you can choose the dates, length of stay and arrival and departure days that suit you best.
Linked ski areas
20 lift-linked ski areas
Savoie Mont Blanc is famous for its lift-linked ski areas, where you can ski from one resort to another without ever taking your skis off. A great way to explore new horizons and get even more from your skiing.
Plan your holiday
Useful tips
Don't overlook the steps that will ensure your stay in Savoie Mont Blanc is a great success!
On skis, a snowboard or a sledge. On groomed trails, in a snowpark or in powder. From early morning to late at night. With family, on your own or with friends. With an instructor or a guide. From autumn on the glaciers to late April. Snow sports forever!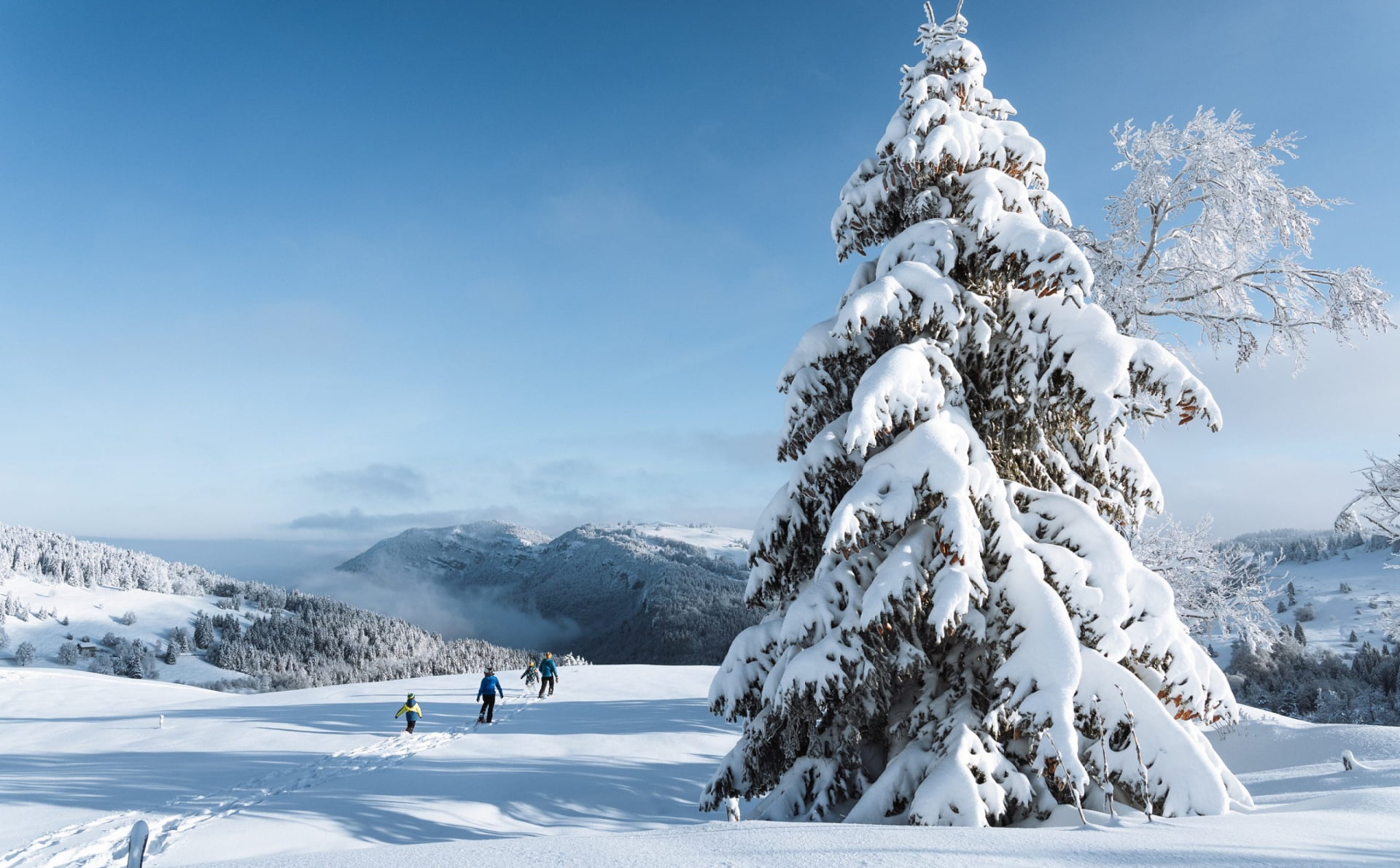 Call of the snow
Nordic expanses
Savoie Mont Blanc is not all steep slopes and huge vertical drops. It also houses several extensive plateaus that are perfect for all types of Nordic sports: cross-country skiing, of course, but also snowshoeing, hiking on signposted trails and dogsledding, whether as a budding musher or a passenger. All great ways of exploring the area from a new angle.
Fairly-tale atmosphere under the pines
Christma in the mountains?
Savoie and Haute-Savoie's winter landscape is the perfect backdrop for a family Christmas. After a day in the mountain air, the family gathers around an open fire to wait for Father Christmas. Sparkling peaks, snow-dusted pines and brightly lit villages — all the ingredients are there to create a truly magical atmosphere. 
Magical Christmas