Try Savoie's juicy crunchy apples and pears
Savoie and Haute-Savoie are well-known for fruit production, especially apples and pears. The soil here is fertile and the wide-ranging temperatures make all the difference. The hillside orchards, which grow at an altitude of 400 m to 800 m, produce less fruit than in the valley, yet the quality is incomparable.
16 varieties
SAVOIE APPLES
This emblematic fruit of Savoie and Haute-Savoie was awarded Protected Geographical Indication status in 1996.
Apple growers, who are mindful of respecting the land and offering high-quality produce, limit their yields by leaving Savoie apples enough time to develop their unrivalled taste and crunchy texture.
The European quality label, PGI, has been awarded to 16 varieties of Savoie apples: Savoie Golden Delicious, Canadian Reinette, Reine des Reinettes, Gala, Jonagored, Pinova, Elstar, Fuji, Suntan, Initial, Canadian White Pippin, Idared, Melrose, Jonagold, Delbarestivale, Delbard Jubilé.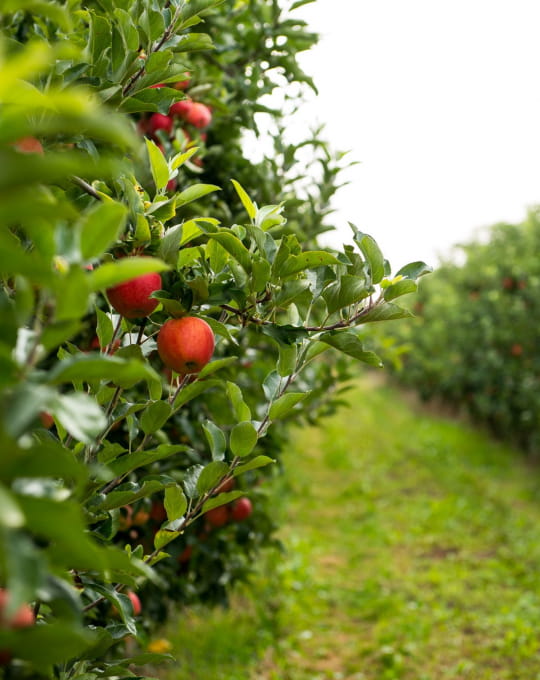 6 varieties
SAVOIE PEARS
Savoie pears have held Protected Geographical Indication status since 1996.
They were the first fruit in France to obtain this distinction, along with Savoie apples, and local growing conditions play a major part in producing their fruity flavour, their firm yet juicy texture, and their beautiful colours.
Savoie pear production covers 110 hectares of land, offering 6 varieties: Conference, Doyenné du Comice, Passe Crassane, Général Leclerc, Williams and Louise Bonne.