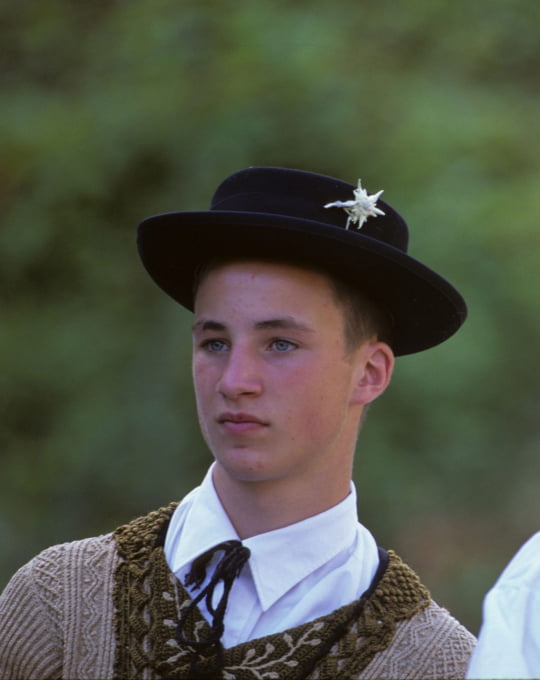 TRADITIONAL DRESS
Savoyard traditional dress for women is a thick wool dress, blouse, shawl, hat, and apron. Men's outfits are simpler, with trousers, vest, wool coat, and black felt hat.
Each village sought to distinguish itself through headdresses and embroidery.
So, each territory in the Savoie and Haute-Savoie—Arves, Val d'Arly, Tarentaise, Chablais, Bauges, and Maurienne—has its own traditional dress.
FOLKLORE
Several traditional festivals showcase Savoie folklore. Dancers cut up the floor with round, square, rigadoon, Scottish, polka, and Montfarine traditional moves. During village celebrations, the Bessanaise, Allobroges, and the Compagnon Savoyard recount the region's history through song.
WOODWORKING 
Wood was once used to build chalets, furniture, religious art, and everyday ware. Each family had its emblem—a heart, rosette, cloverleaf, cross—engraved on its work. Swiss pine was used to make altarpieces, larch for chalet roofs, and fir and pin for furniture. Today, artisans have brought these traditions to life with delicate wooden doves in La Chapelle d'Abondance, boxes, and sculpted chests.
EARTHENWARE AND POTTERY
In the 18th and 19th centuries, several workshops created earthenware for the Savoie nobility and bourgeoisie. At the same time, 'common' pottery centres developed in the Chablais, Genevois, and Faucigny provinces. Sun-dried clay produced yellow, red, black, and green earthenware principally used in homes: jugs, pitchers, plates, etc. Today, several workshops uphold these traditions.
THE PATOIS
Savoyard is part of the Franco-Provençal dialect and has several variations depending on the areas. What makes it unusual? The 'z' at the end of a noun indicates an unpronounced vowel right before, like in 'La Clusaz'.
LA CROIX DE SAVOIE 
The Savoie cross pendant appeared at the end of the 18th century and was given to a woman by her fiancé before their wedding. Crafted in gold or silver, the pendant's size and shape varied significantly according to the valleys, but the cross was often linked to the heart. Jewellers need fine expertise to create these pendants, and some artisans still make them.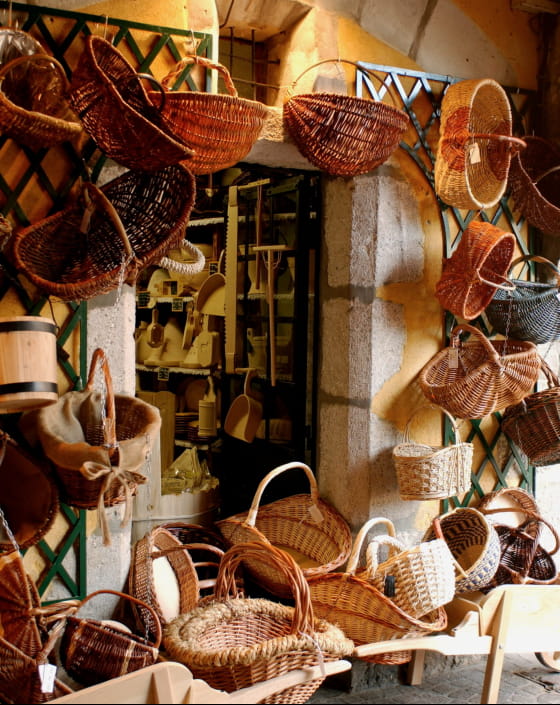 BASKETRY
Basketwork was very useful in the countryside, and it is still carried out in the Savoie Mont Blanc area. Artisans create the rye straw benons to raise bread, wicker casse-cous to carry soil or manure, wicker or old man's beard potato baskets, and marsh straw for caning.
OPINEL 
Joseph Opinel began producing pocket knives in 1890. Twenty years later, he registered his first cutlery trademark and picked the 'Crowned Hand' as his emblem. The hand comes from the coat of arms of Saint-Jean-de-Maurienne. The crown represents the Duchy of Savoy. Because of Opinel's success, a new factory was opened near Chambéry in 1916. Today, Opinel continues to be as popular as ever.