Discover the protected species in Vanoise
OBSERVING WITHOUT DISTURBING
Vanoise National Park is home to some typical Alpine flora and fauna. In order to ensure these species are not disturbed, it is important to adhere to some basic rules.
Getting there:
Opt where possible for eco-friendly transport solutions (carpooling, public transport, or cycling for anyone up for a challenge)
Leave dogs at home, you are not allowed to bring them to the Park
Bicycles and motorised vehicles are et prohibited in the confines of the Park
Within the Park:
Observe fauna from a distance, if you try to approach, they are likely to run away
Do not pick anything
Keep water and energy consumption in mountain huts to a minimum
Take any rubbish away with you
Mascot of the mountains
Marmots
Marmots are one of the most popular mountain species. They are recognisable by their piercing call, and easy to spot, especially around Plan de la Plagne and Les Mindières.
If you are looking to catch sight of stoats, chamois, black grouse, wallcreepers or golden eagles however, you'll need a pair of binoculars, plenty of patience and a bit of luck.
Vanoise National Park was established in 1963 in order to protect the ibex, which was threatened with extinction. The area is now home to the largest herd in France. Ibex take refuge high up in the mountains to avoid high temperatures, so you'll need to be an early bird or wait until the end of the day to get close.
BEARDED VULTURES
A successful reintroduction
Bearded vultures are the most famous of the 125 listed bird species in Vanoise National Park. This soaring giant is threatened with extinction, with only four remaining breeding pairs in Vanoise. One of the (inaccessible) nests lies alongside Nant Putors waterfall, near Rosuel. Other birdlife you can observe in the Park includes owls and rock ptarmigans.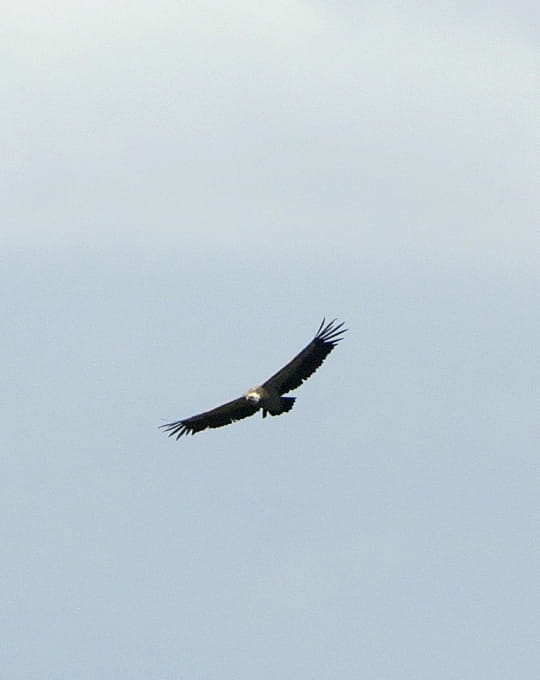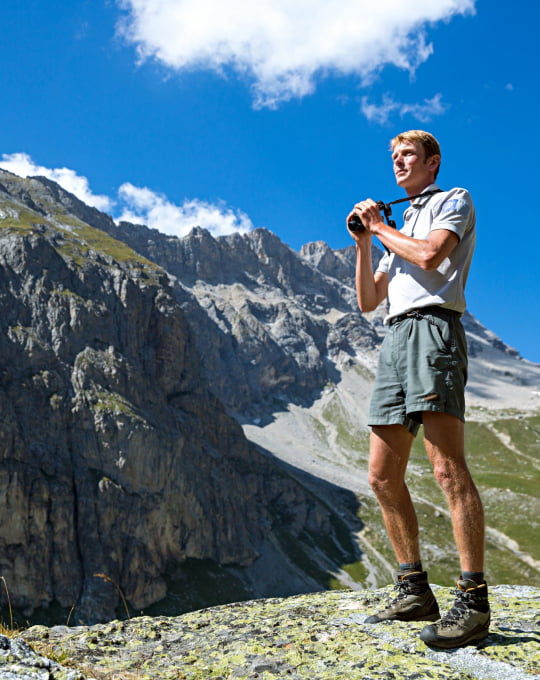 SPOTLIGHT
PARK RANGER, A LABOUR OF LOVE
Rangers are often mistakenly seen as nature police. In fact, it is their work which enables visitors to come and admire the unchanging beauty of Vanoise Park, and which safeguards this environment. The area is monitored every day by around twenty of them, whose work serves both nature and people, enabling everyone to coexist in harmony. Their role is to raise awareness about environmental protection, ensure compliance with the rules, carry out scientific monitoring of the natural environment, contribute to the local area by working with an array of stakeholders, and maintain the trails, signposting and buildings in the Park.
You don't end up in this job by chance - Benjamin Plumecocq
An exceptional flora
Vanoise National Park has 1,400 different plant species, 65 of which are protected.
Alpine columbine, with its distinctive elegance, is emblematic of the area, just like northern dragonhead, named after the shape of its flowers. One of its kind in France, the vivid blue of the bladder gentian can only be found in Vanoise. Piedmont primroses are more common and grow around acidic rocks. They can be found near Mont Pourri hut, Les Mindières Rock or on the paths leading to the waterfalls for example.
Text : Emmelieke Odul/YPM
DID YOU KNOW?
Don't forget, picking is forbidden within the Park. If you are looking for souvenirs to take home, try committing the images to memory or taking photographs.