Traveling family hike in Vanoise
Our itinerary
Méan Martin Circuit
Easy hike with young children
3 days, 27 km, 1,000 m elevation gain
Day 1 : Bellecombe car park > Femma Refuge
Day 2 : Femma Refuge > Fond des Fours Refuge
Day 3 : Fond des Fours Refuge > Pont de la Neige car park
Difficult hike with children over 8 years old
Day 1 : Villaron car park > Vallonbrun Refuge
Day 2 : Vallonbrun Refuge > Plan du Lac Refuge
Day 3 : Plan du Lac Refuge > Fond des Fours Refuge
Day 4 : Fond des Fours Refuge > Villaron car park
7.00 AM.
Day 1
Car packed. Cuddly toys and snacks accessible.
Off we go to Val-Cenis Termignon in the Haute Maurienne. Our children, Oscar and Estelle, will spend their first night in a refuge.
We've been counting the days before the big adventure.
Three days of trekking along the Méan Martin Circuit—27 kilometres and 1,000 metres of elevation gain.
On the programme: marmots, passes, and summits.
The Vanoise,
an open-air laboratory
We reach Bellecombe. Sébastien, a park warden in Vanoise National Park, gives us a wave. A broad smile to welcome us. He tells us how to get to the Femma Refuge. Three quick hours of trekking. And thousands of things to discover along the trail to the refuge.
Our goal: arrive before the sun sets..
The biodiversity in the Vanoise is extensive, with no less than 1,200 species of plants indexed. To be understood. To better protect them.
The kids take off at full pelt in front of us.
Vultures, eagles, marmots, bearded vultures, foxes, chamois.
We can't see them all, but we've heard they live here.
The biodiversity in the Vanoise is extensive, with no less than 1,200 species of plants indexed.
To be understood. To better protect them.
Life at the refuge
Femma Refuge. 2,350 m.
Aurélien stands guard here. Along with Méane, his she-donkey, and his four hens. A lovely tableau. They make Oscar and Estelle smile again after the fatigue of the first climb.
Tonight's schedule: a quick, hot shower (a luxury for a refuge), slippers, and dinner with the other hikers. We share soup with croutons and our stories of the day. Before getting sleepy. Small family room just for us. We're lucky!
What I love the most about this job is to share everything about how we live up there. In the end, isolation doesn't exist; so many people pass through'.
Aurélien Meignan 
Caretaker of the Femma Refuge
At dawn
Day 2
Estelle wakes up with the first glimmer of light. Tap on the shoulder. A pitiful look. Goodbye to that extra hour of sleep. We need to say hello to the marmots. They are hopping through the valley already.
We wolf down homemade breakfast. A few drawings on the patio, a bit of persuasion, and we have motivated the troops for the second day of walking. Direction: the Fond des Fours Refuge. Aurélien warns us. The Col de la Rocheure is easy, but it reaches almost 3,000 metres in altitude.
Estelle is on a back. Oscar is on foot.
Proud to be trekking himself. Above, a completely different landscape appears before us.
An arid, rocky décor. We feel alone in the world.
Oscar pretends he's on the moon.
Devoted caretakers
The last bends. We see Claire's refuge below. No glam at her place. Only values and palpable respect for the mountain where she lives. Brief look around the property. Power, supplies, sanitation—she explains how it works totally independently. Solar panels, pico hydro turbines, or hydrogen fuel cells provide electricity in most refuges.
In the Vanoise, forget about 4G. A good old paper map does the trick.
This time round, it's a cold shower for everyone. Gathered directly from the lake formed by the ancient Fond Glacier. The kids look at each other defiantly. The challenge begins: who will stay in the longest? We play party poopers. In the mountains, we conserve resources. No superfluous power consumption. A bit of willpower and the mobile phone stays off and in a pocket.e.
Claire Lanari Caretaker at the Fond des Fours Refuge
This is one of the rare jobs where we still treat everyone the same way. We mix people who come from diverse and varied backgrounds. The refuge makes us want to spend a great moment together and forget the differences experienced below'
Hop !
Pyjamas on, dinner devoured. Time for a performance from nature before hitting the sack. The refuge is located in one of the darkest regions of France. We go over the constellations with the kids. A wide window into the Milky Way.
Le retour
Day 3
Another way-too-early wake-up call. Estelle doesn't give a hoot. Marmots here. Marmots there. Marmots, marmots everywhere. We station ourselves in front of the hill with tons of holes across from the refuge. An authentic marmot hotel, as Claire describes it.
It's time to say goodbye. We finish our escapade by trekking down to Bonneval-sur-Arc, where our friends will pick us up. Tired, but enchanted, with a head full of memories to talk about, even at school.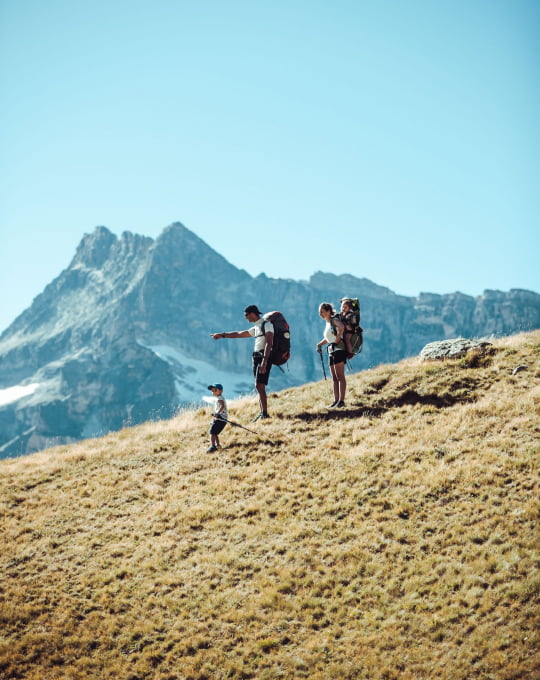 Good advice
Important equipment to bring when trekking with kids
● Baby carrier pack for children under four years old
● Trekking poles
● Hat, sunglasses, sunscreen
● Blister prevention tape
● Rain gear and warm clothes
● Slippers
● Drawing/toy kit to slip into pockets
● Cuddly toy
● Snacks and granola bars
Learn more about Vanoise National Park
Vanoise National Park is open to the public. Each of us must take care of it and respect certain rules to keep it unspoiled.
The flowers, fruits, insects, and rocks make up a fragile environment. Do not collect them.
Carry in, carry out, even in the refuges. It is a heavy task for caretakers to bring down the tons of rubbish at the end of each season.
Electricity is a precious commodity. Avoid hair dryers and even recharging mobiles. As a reminder, there is little or no mobile phone network.
Noise, screams, and even music can greatly disturb the animals in the park. This is not the place to play The Voice.
To prevent the destruction of broods and seedlings, all dogs—even those on leashes and well trained—are not allowed.
You want to imitate Into the Wild? Bivouac tents are only permitted around certain refuges in the park to limit erosion, litter, and out-of-control fires.
Cars, paragliding, and mountain bikes (except on marked trails) are not allowed. For the peaceful existence of hikers, but also not to upset nesting birds.
Sébastien Brégeon
Park warden
Sébastien is one of thirty or so park wardens in Vanoise National Park. As for many, his childhood dream became a reality— to be in constant contact with nature and to share his love for it. At the car parks where the footpaths begin, on the trails, at the refuges, he travels around the park to run workshops for kids, identify the species visitors took pictures of recently, or just make sure that people follow the park rules
His missions:
Observation and keeping order: the park is a protected area and the park wardens are true caretakers of its biodiversity.
In-the-field monitoring of endangered species of flora and fauna to increase understanding of this open-air laboratory.
Providing education and raising awareness about nature and the environment for the public on the trails and in the villages during the summer, as well as in classrooms and holiday centres.
Support and aid in local sustainable development regarding diverse subjects, such as predation by wolves, agricultural events, and refuge and trail maintenance.