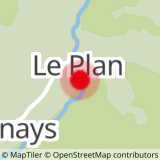 Sport
La Rose du Chapet - N°8
La Giettaz
About
Signs
This route is marked with yellow "ski touring itinerary".
Topoguides references
Portes du Mont-Blanc skiing map
Reception
PRACTICAL INFORMATION :
• The practice of ski touring on the Les Portes du Mont-Blanc ski area is ONLY authorized on the routes provided for this purpose. It is forbidden to climb downhill ski slopes.
• Have the right equipment.
• Adapt your itinerary to your physical capacities, the weather conditions and the time you have.
• You are responsible for your safety and the safety of others.
• Never leave alone and inform those around you of your itinerary.
• Respect the nature and the tranquility of the place.

WARNING :
Outside the opening hours, access to the ski area is strictly prohibited.
DANGER winch damage (cable).
CF Municipal decrees (displayed at the cash desks).

EMERGENCY NUMBERS:
112
+33 (0) 6 63 34 60 78
+33 (0) 6 81 30 63 14
Period of practice
From 18/12/2021 to 27/03/2022 between 9 am and 4.30 pm.

Subject to favorable snow and weather conditions. Canceled or closed.
Contacts

Information update on 10/12/2021 by Office de Tourisme du Val d'Arly